back>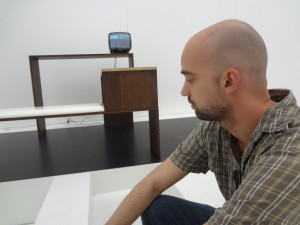 VITA
"Music is life. Theres no good life without music. Music makes you stronger. Music helps you to forget your troubles and problems. Music must own rhythm, groove and soul. Make your dreams come true! Music helps you dream!" (Groovintella)
Groovintella collects records since 1998. At that time he was seventeen years old. 
In the beginning he was influenced by techno from clubs like OMEN FFM and later Stammheim Kassel. His first step to play on public partys was in East Hessen Fulda. He started with his first own party 2005 at the Kasematte Mainz together with friends and localhero Paradroid. Then he started playing regulary at the lovely location Bootshaus Mainz. 
Deejaying is a passion for him and he loves to feel the energy in places where people dance to his music. He likes to tell a story with music and he wants to make love in the air with his mixes. He likes to play music only with Vinyl. When he plays its a mixture between new and old records. He´s looking for the future, enjoying the moment and he knows where the roots are coming from.
He loves Funk, Jazz, Disco, Hip-Hop, Soul and Electroinc music in all common styles. His favourites are Deephouse, Chicagohouse and Detroithouse, Techno like in the beginning, Dubtechno and Detroittechno.
>In short terms: Groovintella likes to play soulful music with emotions, energy and groove.<
He plays together with great artists like:
Move D, Alton Miller, Ian Pooley, Paradroid, Arne Weinberg, Andy Vaz, Dr. Stefan Funk, Gombo Inc., Torsten Stauder, Alex Seehaus, Gianni Di Carlo, Brown Suga, Sebastian [F]aust, Marcel Mertel, Nadine, Trojan, Bene & Seux, Filip Raschke/Berg, Sven Helwig, Alex Leon, Jacob Lauer, #npnk, Raphael Postpischil, Jazzorist, Dj Spida, Michael Rütten, Alexander Antonakis, Emil Seidel, Jacques Tactile, Pierre Van Keerckvoorde, Jefferson Cellestiono, Liza Lauter. Matteo and many more…